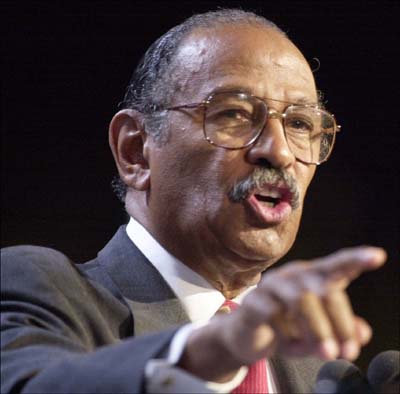 Good Morning Papamoka Bloggers - I'm very happy this morning to rave about how House Judiciary Chairman John Conyers, Jr. (D-MI), is calling for a "
Blue Ribbon Commission
" to fully investigate the Bush administration. That is GREAT NEWS!
Conyers published a 487-page report yesterday entitled,
Reining in the Imperial Presidency: Lessons and Recommendations Relating to the presidency of George W. Bush
. I know he's not a federal prosecutor, but it's a start. In it he makes 47 recommendations "
designed to restore the traditional checks and balances of our constitutional system
," along with the Blue Ribbon Commission to bring Bushies to justice.
"
Even after scores of hearings, investigations, and reports, we still do not have answers to some of the most fundamental questions left in the wake of Bush's Imperial Presidency
," Conyers said in a release. "
Investigations are not a matter of payback or political revenge – it is our responsibility to examine what has occurred and to set an appropriate baseline of conduct for future administrations
."
On January 6th, Conyers introduced a bill that, if passed, would create the "
Commission on Presidential War Powers and Civil Liberties
," which would seek to root out President Bush's abuses. EVERYBODY NEEDS TO SUPPORT THIS BILL! IT IS VITAL TO AMERICAN JUSTICE!
So, this will be my new cause, and call to action. I will contact my representatives today, especially my Congressmen Henry Waxman, and encourage everybody who agrees with me to please do the same. This is a very serious issue. It's not a left/right issue, it's about American justice.
We need to make sure Conyers gets the support he needs, along with his allies. I will be writing more over the next few weeks to make sure we keep focused. If Obama isn't going to take action, than we need to support those who will, starting with Conyers. I will volunteer, donate, and do EVERYTHING POSSIBLE to make sure the truth comes out, and justice prevails.
Michael Boh
Papamoka's Left Coast Contributor
from
Our Rants & Raves Blog
Labels: Bush Administration, Crimes of the Presidency, Henry Waxman, John Conyers, Justice, Michael Boh