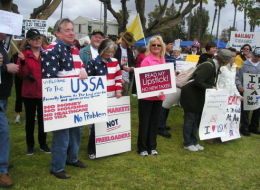 Attention Readers
! If you don't like name-calling, perhaps you should skip this article and retire to your morning paper. Have a good day!
Michael
Good Morning Papamoka Readers! I'm sorry, but this has to be one of the most hilarious, and saddest, "
serious
" protests in American history. I keep thinking they're going to scream "
gotcha
" and admit the joke, but it hasn't happened yet.
It's incredible to think that intelligent, serious people are out there protesting for lower taxes when President Obama just passed one of the largest tax cuts in American history. Okay, not for the richest, but still one of the largest. I can understand if they're out-of-work and being paid by the rich to protest, which would be sad but understandable, but to do it because you're too stupid to look up the facts - people, that's just plain
feebleminded
!
95% percent of Americans will see their tax burden reduced because of the Democrats and President Obama!
Unless the
boneheaded buffoons
with the signs are all making over $250,000 a year, which is highly unlikely, they're protesting against something that was just passed in their favor! What a bunch of
ignorant simpletons
! Protesting against people trying to help them. You have to admit, they've invented a whole new category of political ignorance -
TAX TWITS
!
It gets even funnier, or sadder. Many are out there protesting GOVERNMENT SPENDING! They're like
outdated broken political caricatures
talking about Democrats as "
tax and spend
" liberals - sorry,
socialists
. Why don't you
economic-policy-ignorant-imbeciles
READ why the government is forced to spend right now? Any economist worth his degree is in favor of government spending at this time, especially spending designed to encourage lending, create jobs and spur the economy. They're trying to help EVERYBODY, not just the poor, you FREAKING FOOLS!
If you
political pinheads
with the signs were so principled and against wasteful government spending, then you should have been protesting during the Reagan, Bush and Bush Jr. Administrations. Yes, they're the ones who spent all your
freakin
money! They ran up the debt! It's true, over 30-years of Republican tax cuts (
while maintaining popular federal programs to win votes and retain power
) ran up over 90% of today's $11 trillion in federal debt.
George "the idiot" Bush - alone - ran up over a trillion in less than a year before leaving office for God's sake. Why don't you political nincompoops protest THEM?!

The only thing President Obama and the Democrats are guilty of is trying to keep the deepest recession since the great depression from officially becoming another great depression -
and it's already close
. That's it, plain and simple. The only way to do that is to prop up economic spending, regulate broken economic sectors, and reduce costs in industries like health care and energy. That's the only way to ultimately save money, invest in the future, and perhaps -
over time
- reduce taxes.
President Obama did a great job explaining it yesterday. He truly is the
Professor-in-Chief
of the nation. He helps the majority of us -
sane, well-read Americans
- understand exactly what must be done to fix the problems. It's the only way to achieve the goals being screamed out by the protesters -
lower taxes and less spending
.
Anyway, the whole Tea Bagging phenomena has to be one of the most absurd, crazy, insane, and outrageous acts of
political naivety
- or
stupidity
- ever witnessed on American soil. I must admit, it makes for a good laugh. Unfortunately, they may seem harmless, but they're not. It's morons like the "
Tea B

aggers
" that keep voting for idiots like Bush, McCain and
Palin
.
They are the regressive, ignorant part of our political society. They are the ones who hinder progress through sheer laziness
(that leads to ignorance)
, hardheadedness (
their
inability to learn from past mistakes)
, and desire for an ideology whether right or wrong (
close-mindedness
) -
among other things
. Yes, they're the dumb, slow kid who constantly cracks jokes in the back of class. They're only funny as long as they don't prevent the rest of us from progressing. Unfortunately, they've been far too disruptive for far too long.
Michael Boh
Papamoka's Left Coast Contributor
from
Our Rants & Raves
Blog
PS - Btw, they're also a bunch of DUMBASSES! I forgot to use that one. :) Even funnier, they remind me of a bad Monty Python sketch. You know, the idiots with the scarves on their heads screaming at each other. LOL!!!
Labels: 0Libertarian Idiots, government spending, Government Waste, Lower Taxes, Michael Boh, Morons, rant, Republican Idiots, Republican Morons, Taxes, Tea Bagging